your accounting invoice collection document validation bill's data entry bank reconciliation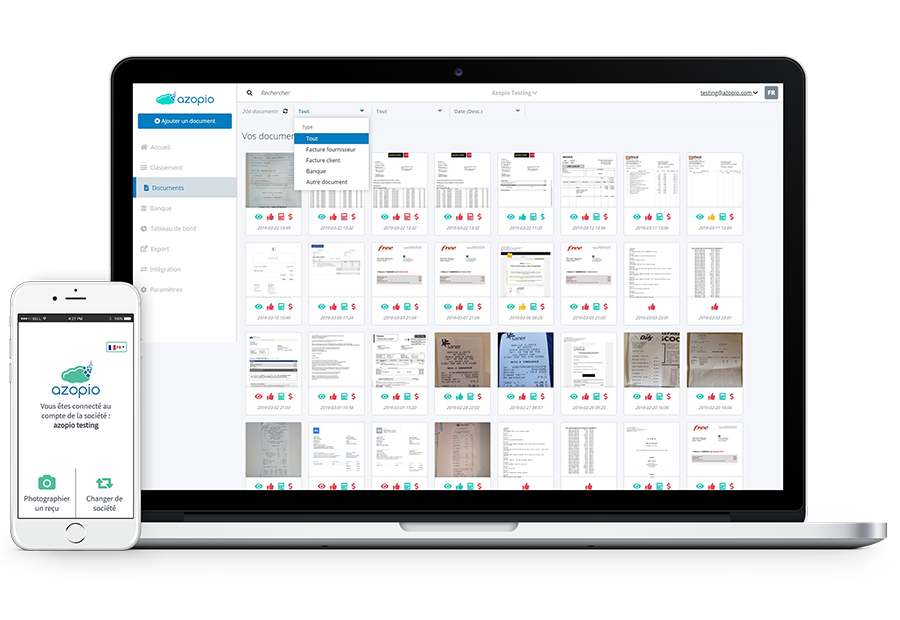 Join thousands of businesses already using Azopio daily !
An intuitive and complete cloud solution automating your accounting and simplifying the daily grind of your business
Automatically fetch bank transactions
Azopio automatically retrieves all your financial transactions and saves you time running your business ! Azopio connects to a large number of bank's to automatically collect and centralize all your bank transactions in one place. You don't need to worry downloading your monthly bank statements anymore; Azopio synchronizes with your bank accounts and pulls out daily all your transactions.
To prevent losing your receipts, simply snap them with your phone and send them, in one click, onto your Azopio account to be instantly processed. Our Machine Learning and Artificial Intelligence-based algorithms extract automatically and in a split second, the useful accounting data from all cash register slips or receipts. Never lose another receipt and stop wasting valuable time inputting data manually into spreadsheets ! A solution to make your way toward a paperless office  !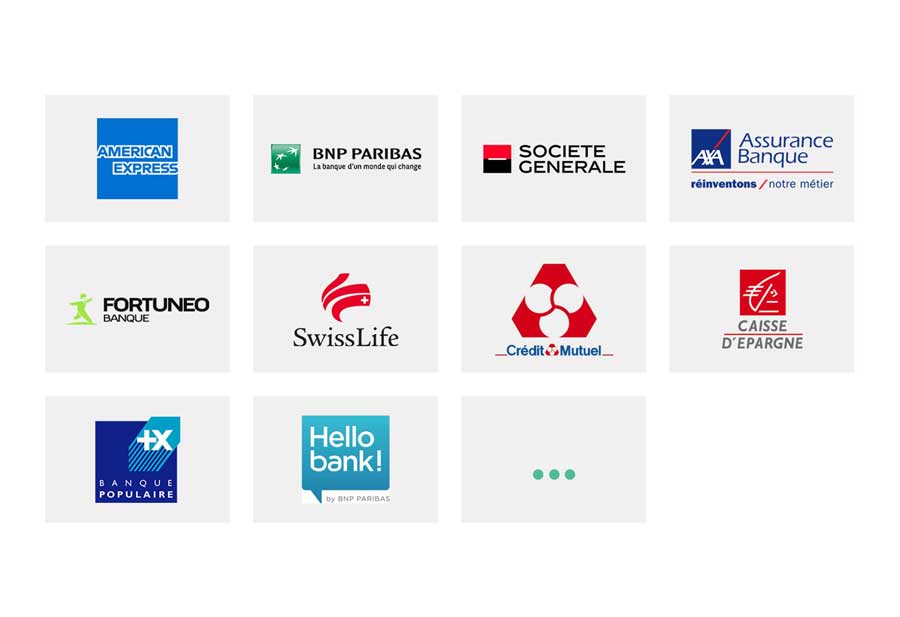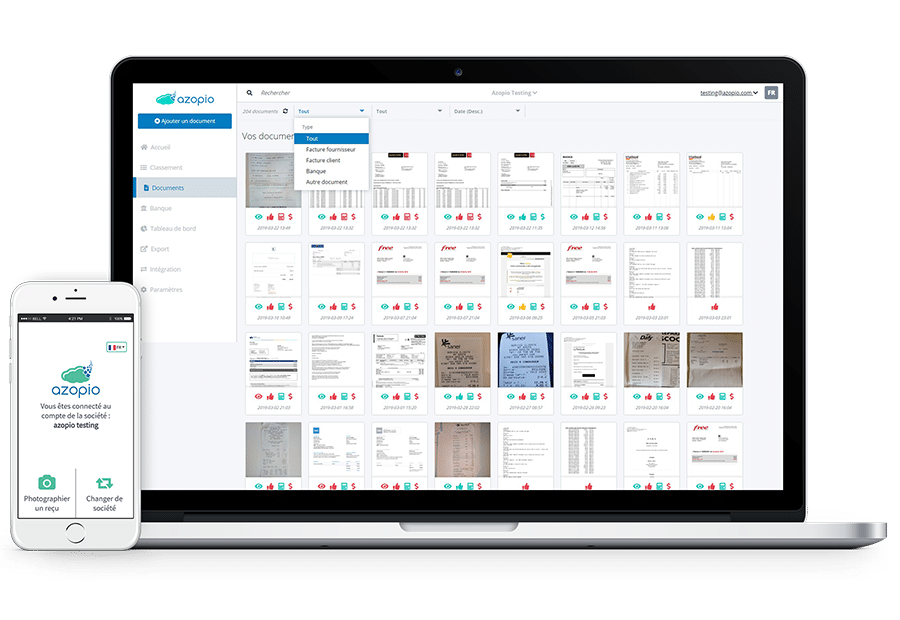 Centralize, organize, sort and store all your bills and documents !
Azopio collects, digitizes, centralizes and stores all your bills, invoices and financial documents in one place. Easily and quickly find your documents, automatically sorted and filed according to a predefined method to optimize document management processes.
Automatically processes and extracts data from your bills & invoices
No more manual data entry ! Save time and gain productivity with Azopio ! Our solution extracts key information and values from your bills and receipts (Name, Date, Invoice number, Currency, Amounts, and Taxes) allowing it to retrieve quickly documents based on any of these data. Azopio generates an accounting report that can easily be integrated into your accounting software.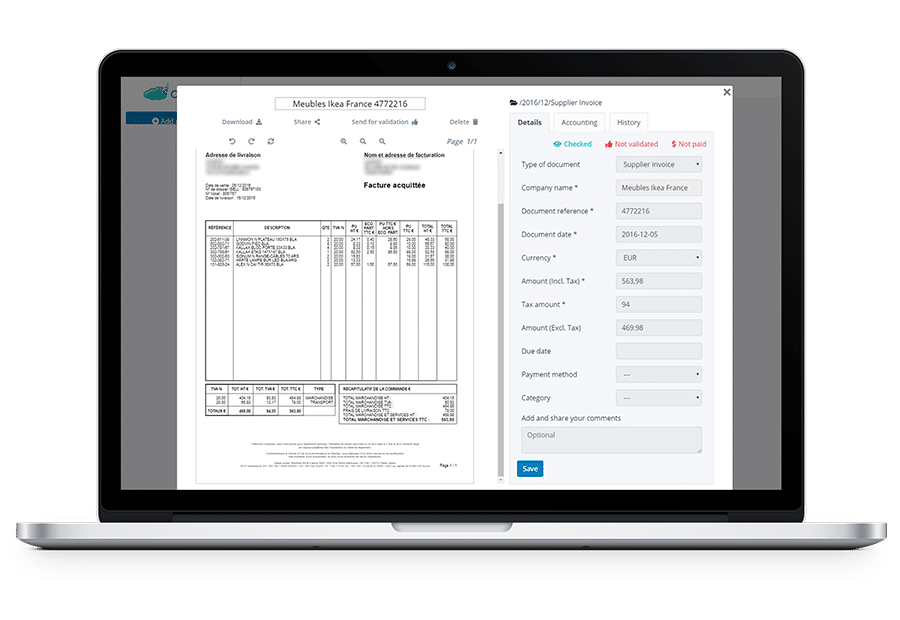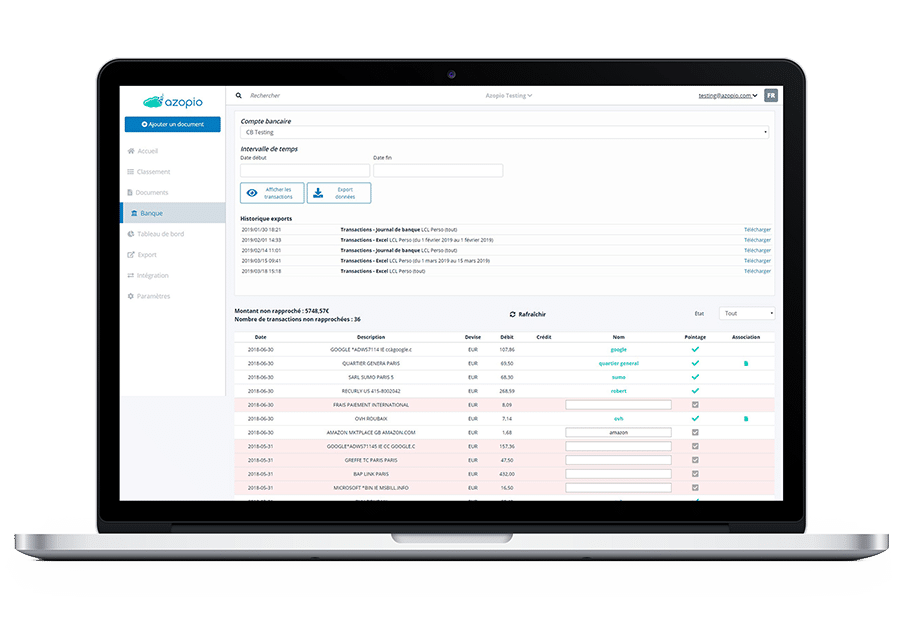 Reconcile your bank accounts
Once your bank account is connected to Azopio, it collects the financial transactions occurring on this account on a daily basis, reconciles its matching suppliers or clients and suggests the relating invoices or bills. Azopio lets you know what documents are missing, so you know what bills are outstanding… !
That way you get to know your cash position in real-time, whenever you need it.
Synchronise and duplicate your documents to your favorite cloud storage solution
Azopio enables you to connect to one of the market leaders of online storage (Dropbox, Google Drive, OneDrive or Box) and daily drops a copy of all your sorted documents onto the selected cloud solution.
If you wish so, your documents are therefore not only stored onto your Azopio account, but also copied onto your usual drive, offering you an extra back-up.
We let you free to keep or choose the methods and tools you currently use or wish to use !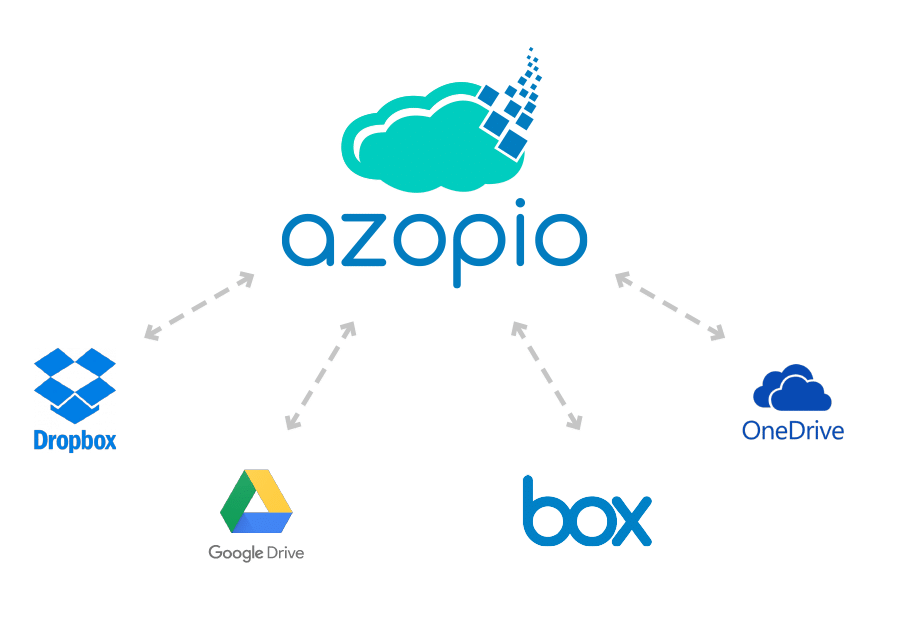 Manage your accounting securely and without commitment ! GDPR compliant
No data is sold to third party.
All our servers, databases and network infrastructure are located in the European Union !
We are partnering with secured data centers and providing a redundant infrastructure.
All data transfers are SSL-secured.
Your documents always remain with you, as we synchronize them to your Cloud storage solution provider.
Really commitment free !
They are already using it ! More than 1000 businesses are gaining time and productivity on a daily basis.
No credit card. No commitment.